ISBF Virtual Event – January 26, 2021
You must register for this event by clicking the yellow Free Registration button and then clicking the Register hyperlink in blue next to Event Status.
---
New Dates for Biofabrication 2021
TERMIS 2021 Symposium
TERMIS 2021 Abstract Submissions Accepted

Submit your abstract today for TERMIS 2021. Submission deadline is September 1, 2020. Click here to visit the submission page.
---
Important Announcement on the 2020 Biofabrication Conference Wollongong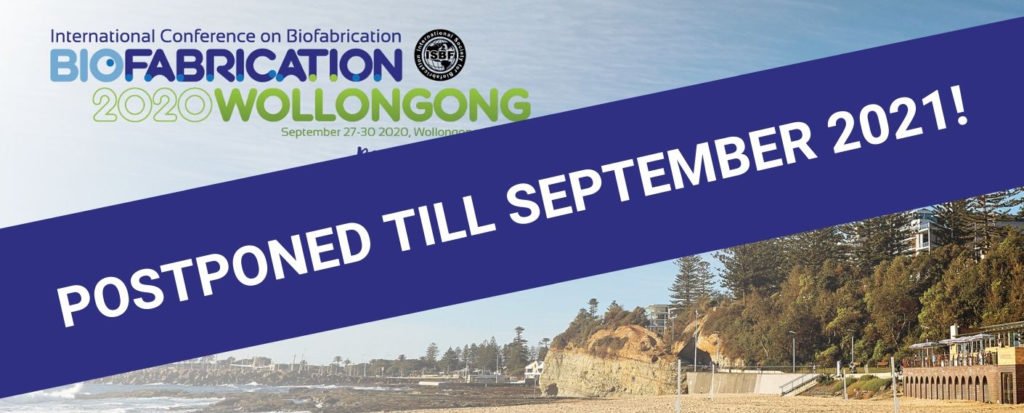 Click here to read an important announcement regarding the 2020 Biofabrication Conference.
---
Discount Offered on ISBF Membership until December 31, 2019
For those of you who could not attend the 2019 Biofabrication Conference in Columbus, Ohio, this is a reminder to renew your ISBF membership TODAY. ISBF offers a 10% discount on the registration of new and renewal membership through December 31, 2019. The benefits of membership include 1) Free online access to the ISBF's official journal, Biofabrication, 2) Participation in the Society's activities, including voting rights and award programs, 3) Posting career opportunities on the ISBF website, 4) Receiving the ISBF Newsletters, and 5) Reduced registration fee for the annual Biofabrication Conference.
Please follow the link to register/renew your membership TODAY. Enter discount code 10OFF at checkout.
---
ISBF Welcomes New Board Members
The Executive Board of Directors would like to welcome the newly elected ISBF Board Members. The term of service is 3 years beginning on January 1, 2020 and ending on December 31, 2022.
Newly Elected Board Members:
Sarah Heilshorn, Stanford University, USA
Gordon Wallace, University of Wollongong, Australia
Riccardo Levato, University Medical Center Utrecht, The Netherlands
Aleksandr Ovsianikov, Technische Universität Wien, Austria
---
Save The Date: 2020 Biofabrication Conference
The 2020 Biofabrication Conference will be held at the University of Wollongong, Australia from September 27-30, 2020. Please mark you calendar to attend the world's largest scientific conference on Biofabrication. The meeting information will be forthcoming.
Important Dates:
Abstract Deadline: February 24, 2020
The ISBF Conference Committee and Board of Directors are pleased to select Pisa, Italy as the 2021 Biofabrication Conference location. Please save the date (September 26-29, 2021) on your calendar.
---
2019 ISBF Award Winners Announced
The ISBF Awards Committee is pleased to announce the 2019 Award winners. The awards will be presented at the 2019 Biofabrication Conference in Columbus, Ohio, USA.
ISBF Senior Investigator Award
Dong-Woo Cho, Pohang University of Science & Technology (POSTECH), Korea
ISBF Mid-Career Investigator Award
Ferry PW Melchels, Heriot-Watt University, United Kingdom
ISBF Young Investigator Award
1st Place: Gabriella CJ Lindberg, University of Otago, New Zealand
2nd Place: Jihoon Park, Wake Forest Institute for Regenerative Medicine (WFIRM), USA
3rd Place: Ashkan Shafiee, Wake Forest Institute for Regenerative Medicine (WFIRM), USA