Introducing the RX1 Bioprinter Grant Program for Early Career Principal Investigators
Aspect Biosystems is now accepting applications for their RX1 Bioprinter Grant Program for Early Career PIs. Establishing a new lab and securing equipment funding can be difficult. So this program was designed to support early career PIs in getting access to microfluidic 3D bioprinting technology in their labs.
Selected applicants will receive an RX1™ bioprinter at no cost for 6 months
Who should apply: Early career PIs or researchers starting their lab within the next 12 months in the fields of biofabrication, tissue engineering, or regenerative medicine are encouraged to apply
Application deadline: March 12, 2021
Learn more and download an application form here: https://info.aspectbiosystems.com/2021-rx1-bioprinter-grant-program-early-career-pi
---
ISBF/TERMIS Joint Young Investigator Seminar

ABSTRACT SUBMISSION OPEN! – DEADLINE FEBRUARY 19th
On behalf of the Early Career Researchers Committee of the International Society for Biofabrication (ISBF) along with the Students and Young Investigators Section (SYIS) councils for the Americas, European, and Asia-Pacific chapters, we invite you to join us for a seminar jointly hosted by both TERMIS and ISBF!
This seminar will take place in the second week of March and will highlight students, young investigators, and early career faculty performing research at the intersection of the fields of tissue engineering, regenerative medicine, and biofabrication. Topics covered:
Biofabrication Technologies & Bioreactors
Industrial Applications, Commercialization & Regulation
Clinical Translation
Lab-/Organ-on-Chip Technologies
Biomaterials and Bioinks
Evaluation, Characterisations, and Quality Control for Biofabrication
Cardiovascular/Angiogenesis/Blood
Dental & Craniofacial
Imaging and Assessment
Musculoskeletal
Neural & Spine
Opthalmologic
Respiratory, Urologic & Gastrointestinal
Skin, Wound Healing, and Inflammation
Stem Cells & Cell Therapies & Developmental Biology and Cell Signaling
More information and registrations: https://docs.google.com/forms/d/e/1FAIpQLScnE0U2ES0hz5k2A0dhyz3ckVkyLsS6M6JlLFxbrU9Y3IW9ug/viewform
---
ISBF 2021 Twitter Poster Conference
The International Society for Biofabrication (ISBF) is excited to announce the inaugural ISBF Twitter Poster Conference for Early Career Researchers. This online event aims to offer a forum for young researchers in the field of Biofabrication to connect, network and present their research in a remote setting. The conference will run over a full day to ensure participants from all time zones can contribute at their own time slots of convenience, and have a chance to learn from the posters posted by colleagues worldwide.
Date: 17th – 18th February (held over a 24-hour period starting from 11:00 am on February 17th to11:00 am on February 18th, Eastern Standard Time).
Abstract submission deadline: February 4th 2021
Abstract Acceptance Notification: February 8th 2021
View an Abstract Template example.
Click here for complete information.
---
ISBF Virtual Event – January 26, 2021
You must register for this event by clicking the yellow Free Registration button and then clicking the Register hyperlink in blue next to Event Status.
---
New Dates for Biofabrication 2021
TERMIS 2021 Symposium
TERMIS 2021 Abstract Submissions Accepted

Submit your abstract today for TERMIS 2021. Submission deadline is September 1, 2020. Click here to visit the submission page.
---
Important Announcement on the 2020 Biofabrication Conference Wollongong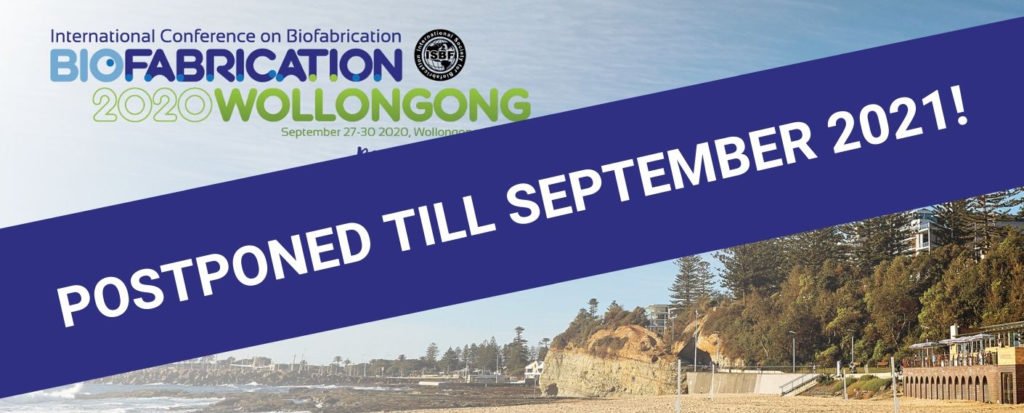 Click here to read an important announcement regarding the 2020 Biofabrication Conference.
---
Discount Offered on ISBF Membership until December 31, 2019
For those of you who could not attend the 2019 Biofabrication Conference in Columbus, Ohio, this is a reminder to renew your ISBF membership TODAY. ISBF offers a 10% discount on the registration of new and renewal membership through December 31, 2019. The benefits of membership include 1) Free online access to the ISBF's official journal, Biofabrication, 2) Participation in the Society's activities, including voting rights and award programs, 3) Posting career opportunities on the ISBF website, 4) Receiving the ISBF Newsletters, and 5) Reduced registration fee for the annual Biofabrication Conference.
Please follow the link to register/renew your membership TODAY. Enter discount code 10OFF at checkout.
---
ISBF Welcomes New Board Members
The Executive Board of Directors would like to welcome the newly elected ISBF Board Members. The term of service is 3 years beginning on January 1, 2020 and ending on December 31, 2022.
Newly Elected Board Members:
Sarah Heilshorn, Stanford University, USA
Gordon Wallace, University of Wollongong, Australia
Riccardo Levato, University Medical Center Utrecht, The Netherlands
Aleksandr Ovsianikov, Technische Universität Wien, Austria
---