Call for Abstracts for the 2021 Showcase
Biofabrication Technology Showcase 2021!
Tuesday, June 1, 2021
8:30-10 AM ET/ 1:30-3 PM CET/ 8:30-10 PM China/9:30-11PM Japan
The ISBF's Industry Relations Committee (IRC) is excited to invite you and your company to submit abstracts to the Biofabrication Technology Showcase 2021 event. The field of biofabrication is rapidly growing and increasing numbers of new companies with innovative technologies and products are introduced. The IRC is organizing an industry-focused online event to showcase "Innovative technologies and products" from biofabrication related companies with the goal of providing the researchers up-to-date information on new and emerging technologies and products. This event will provide an opportunity for your company to present your development work.
If you and your colleagues at your company would like to highlight your biofabrication related activities, please follow the abstract guidelines below.
The abstract should be limited to 1 page.
The content should be technology-based and should not be a commercial advertisement.
Describe the technology and capability of your product.
Describe examples of studies performed with your product.
How your technology can benefit researchers advance science or people in the society.
Abstracts should be submitted to Professor Michael Gelinsky (michael.gelinsky@tu-dresden.de) by April 20, 2021. Any questions related to this event should be directed to Professor Koich Nakayama (ko.nakayama@gmail.com). All abstracts will be reviewed by the ISBF's Industry Relations Committee. The selected abstracts for presentation will be notified by April 30, 2021. Each accepted abstract will be requested to submit a prerecorded presentation by May 21, 2021.
Key Dates:
Abstract Submission Deadline April 20, 2021
Abstract Notification April 30, 2021
Prerecorded presentation Submission May 21, 2021
We hope you and your colleagues will participate in this Industry-focused event.
Industry Relations Committee of the ISBF
---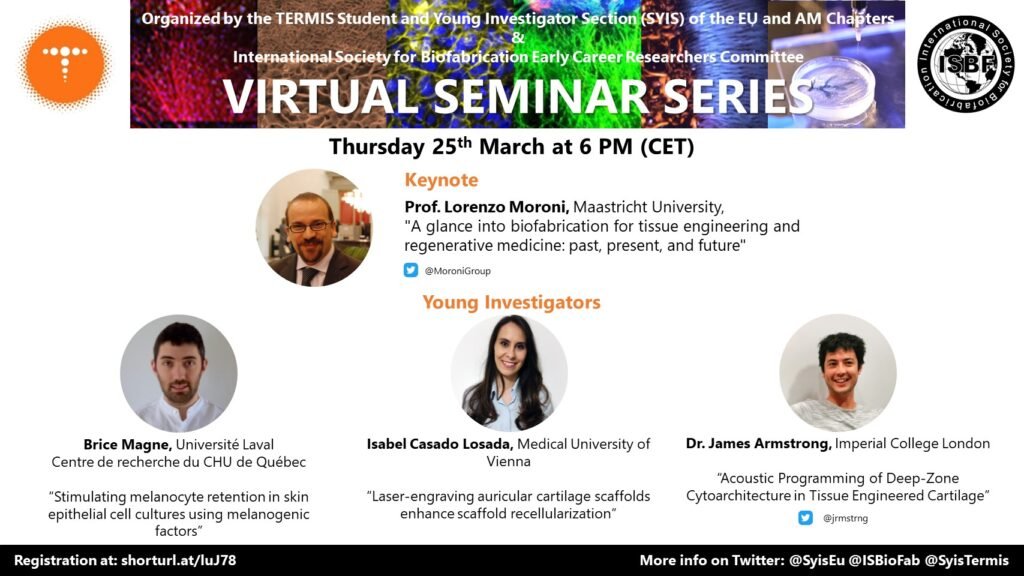 Join us on March 25 for an exciting new seminar organized by the Early Career Researchers Committee!
Thursday, March 25, 2021
6:00pm CET
Register at shorturl.at/luJ78
---
ISBF Virtual Event – March 31, 2021
"Transform Your Ideas into a Startup"
Wednesday, March 31, 2021
8:30-10 AM ET/ 1:30-3 PM CET/ 8:30-10 PM China/9:30-11PM Japan
The ISBF's Industry Relations Committee (IRC) is excited to invite you to attend its second online event focused on transforming your ideas into a startup. In this event, experts from the industry will be sharing their experiences and know-how on key topics related to product development, fundraising, intellectual properties, and regulation.
Event Moderator: Professor Michael Gelinsky, Dresden University of Technology (TU Dresden), Germany, Vice President of the German Society for Biomaterials
1. Transforming biofabrication related technologies to medical products
Dr. Tao Xu, Professor at Tsinghua University, China – Co-founder of Medprin Biotech (going IPO soon); Chair of the Biofabrication section, Chinese Society for Biomaterials
2. How to raise startup capital?
Dr. Jonathan Yeh, Saisei Ventures, LLC, USA, Japan
3. IP Strategies for a startup
Alex Y. Nie, Partner, Sheppard, Mullin, Richter & Hampton LLP, Silicon Valley, Shanghai
4. Regulatory processes for medical devices
Dr. Diego Faletti, Global Vascular Technical Team Manager, British Standard Institution (BSI)
FOLLOWED BY A PANEL DISCUSSION AND Q&A
---
Introducing the RX1 Bioprinter Grant Program for Early Career Principal Investigators
Aspect Biosystems is now accepting applications for their RX1 Bioprinter Grant Program for Early Career PIs. Establishing a new lab and securing equipment funding can be difficult. So this program was designed to support early career PIs in getting access to microfluidic 3D bioprinting technology in their labs.
Selected applicants will receive an RX1™ bioprinter at no cost for 6 months
Who should apply: Early career PIs or researchers starting their lab within the next 12 months in the fields of biofabrication, tissue engineering, or regenerative medicine are encouraged to apply
Application deadline: March 12, 2021
Learn more and download an application form here: https://info.aspectbiosystems.com/2021-rx1-bioprinter-grant-program-early-career-pi
---
New Dates for Biofabrication 2021
TERMIS 2021 Symposium
---
Important Announcement on the 2020 Biofabrication Conference Wollongong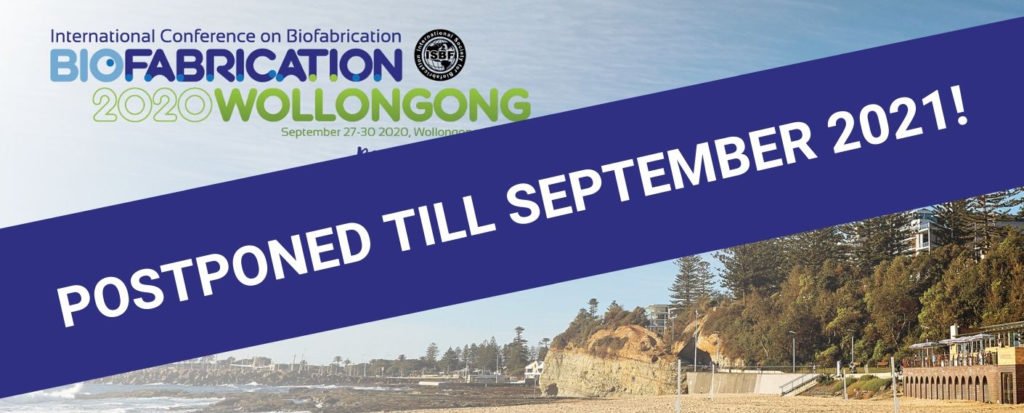 Click here to read an important announcement regarding the 2020 Biofabrication Conference.
---
ISBF Welcomes New Board Members
The Executive Board of Directors would like to welcome the newly elected ISBF Board Members. The term of service is 3 years beginning on January 1, 2020 and ending on December 31, 2022.
Newly Elected Board Members:
Sarah Heilshorn, Stanford University, USA
Gordon Wallace, University of Wollongong, Australia
Riccardo Levato, University Medical Center Utrecht, The Netherlands
Aleksandr Ovsianikov, Technische Universität Wien, Austria